Quality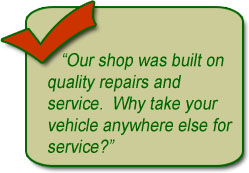 Our shop was built on quality repairs and service. In order to achieve high quality results, many things must exist.

To start with, a shop must have the very best staff of Mechanical Technicians, Service Advisors, Parts Venders and Suppliers. They must have the proper tools and equipment, all in good working order, to perform their jobs. Also needed, are more than one source of, up-to date, accurate, repair information. The staff must constantly attend the best training available. The highest quality parts must be used, at all times. The shop needs to be clean, well lighted, and organized.

Quality won't happen without the best shop management computer software, outstanding organization, communication and efficiency in all shop operations. All this is meaningless unless everyone in the shop is dedicated to delivering a quality product and unsurpassable service. The staff must be supported in this mission, from the top of the organization, on down.

Quality takes on many different forms. At HEFR, we strive to achieve quality in each of the small steps, so that the overall result has quality built in. We continuously evaluate each step and make the changes needed to improve.

This is how we approach the business of vehicle maintenance and repair. Why take your vehicle anywhere else for service?