The Difference Between Price and Cost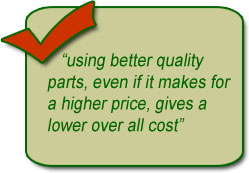 Simply put, Price is what is paid for a one time transaction. Cost is everything that is involved over the course of time.

We see this in several areas of life. Take clothing, a wedding dress for example. The price tag dedicates the Price of the dress. Cost includes the time, stress, and bonding between mother and daughter, involved in finding the "perfect dress." There may be several trips to different dress shops, and to bridal fairs, the reading of bridal magazines, the searching of web sites, and asking friends. The biggest Cost is how the bride feels on her wedding day. If she feels beautiful, special, and good about the dress, the Cost is very low. But, if she feels poorly, it makes no difference what the Price of the dress was, the Cost is too high.

Which is the better deal?
Another example of price vs. cost could be front brake pad replacement, on your vehicle. Let's consider the work being done at two different shops.
Shop 1, quotes the job at $145.00

Shop 2, quotes the job at $170.00
If we look at price alone, the quote from Shop 1 is the least expensive, so it looks like the best deal. But, let's look a little deeper and consider the cost. The brakes Shop 1 put on last 30,000 miles. Shop 2 is using better quality brake pads; they will last for 45,000 miles. Over the course of 90,000 miles you would have spent $435.00 (3 brake jobs x $145.00) using Shop 1 and only $340.00 (2 brake jobs x $170.00) using Shop 2. This alone is a dollar savings of $95.00.

Some other costs to consider are that the cheap brake pads squeal every time the brakes are used, kind of annoying. There is the inconvenience of the vehicle being in the shop, one extra time, to get that extra brake job. There is also a safety factor involved; the inexpensive brakes do not work as well, so it takes a longer distance to stop.

Clearly, using better quality parts, even if it makes for a higher price, gives a lower over all cost, less stress, less inconvenience, and a safer vehicle, isn't this what we really want?