Preventative Maintenance Pays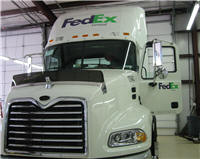 It makes no difference if you own a single work vehicle or a fleet of several trucks; you cannot afford to have broken down vehicles. If the units are not running, you are not making any money with them. At HEFR, we can help.
Some of the vehicles we service are:
Ford, Freightliner, GMC, International, Isuzu, Kenworth, Peterbilt, and Sterling. We can service engines made by Caterpillar, Cummins, Detroit, and International.

Our goal is to keep your vehicles moving! We understand both the Cost per Mile, and Down Time. We use quality parts to reduce both the Cost per Mile and Down Time. We schedule our service times, so when you bring in a truck, we can get right to work on it. We get you in and out, no sitting in a line waiting. We fix the small problems before they become major issues.

Speaking of services, we have a complete check list of things that are inspected at each service. Our goal is that your truck would pass the Federal Annual Inspection after each service. If it will not, you will be notified of what needs to be performed.

We work very hard to keep your true cost per mile as low as possible. True cost per mile is more than just the repair bill total. True cost per mile includes lost time, payroll for driver (not driving the truck), tow bills, small repairs not caught that are now large repairs, and possible lost customers when deliveries are not on time.

We specialize in preventative maintenance. We practice the saying, "An ounce of prevention is worth a pound of cure." We get reports back, from several of our fleet customers, that the units we service and maintain on a regular basis have the lowest cost per mile, the least amount of break downs, and the highest profit per mile. Let us implement one of our preventative maintenance programs for your vehicles and start saving you money.

MEDIUM AND HEAVY DUTY TRUCK SERVICES
KEEPING YOUR DIESEL RUNNING AT IT'S PEAK
Coolant testing is very important on a diesel engine. Each time we service a vehicle we check the coolant freeze point, PH, and nitrates. We have the coolants that diesel engines require, including the Cat spec EC-1 extended life coolant.

In the February 2007 issue of Fleet Maintenance magazine, Sarkis Aroyan, sales manager for the international division of Penray was quoted. "Studies show that 40 percent of diesel engine downtime can be traced to the coolant. Really there are a lot of people out there who neglect the coolant."

Diesel engines require special oil and oil change intervals. We stock Delo 400, Shell Rotella, and BG synthetic diesel oil. Oil change interval recommendations are made depending on the manufactures requirements and vehicle usage.
OUR SERVICE AREA
We service vehicles from from all over Northern Arizona, including Black Canyon City, Camp Verde, Cordes Junction, Cornville, Cottonwood, Dewey, Flagstaff, McGuireville, Munds Park, Payson, Pine, Phoenix, Prescott, Prescott Valley, Sedona and Strawberry.
We provide road service along I-17 between Flagstaff and New River as well as hwy's 69, 87, 89A, 169, 179 and 260.