Maintenance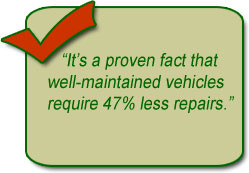 "We are far more interested in keeping vehicles from breaking than we are in fixing broken vehicles."
Dave Wittmayer ~ Owner/Technician

Do you wait until your vehicle runs out of fuel to refill the fuel tank? That is an absurd thought to us! Just think of the inconvenience, the stress of never knowing when you could be stranded, but knowing, it will happen. Then why do we wait until our vehicle breaks down, to get it fixed?

The majority of breakdowns can easily be prevented by following a preventative maintenance program. The manufacturer's required maintenance schedule is a good place to start. We have built from them, based on our experience, training and clients needs, to where we have several different preventative maintenance programs. Having a qualified Technician perform a checkup when the oil is changed, also goes along ways toward preventing problems.

We keep a complete service history on every vehicle we've ever had in our shop. We not only have computer records, we have a paper file on every vehicle.

Our new software system makes maintenance even easier. We've broken down all the required maintenances into their individual component parts. There are several key items to keep track of. Our software produces a list of these items for every vehicle we service, showing the date and miles each job was last done and the date and miles each one is due again. It's all detailed on each repair order. Very few other shops have computer software that will do this.

We'll gladly review your maintenance schedule with you, and let you know what's past due, currently due and, even more important, what's coming due next time. This allows you to budget the time and money for future services. You don't have to know anything about a vehicle, that's our job. All you have to do is show up and we'll help you from there. Scheduled maintenance saves money and protects your investment. It also helps ensure that your car will start at midnight when you need it to. It's a proven fact that well-maintained vehicles require 47% fewer repairs!

We're qualified to perform all the required maintenance services on your vehicle, even if it's brand new and still under warranty.

We don't just fix vehicles, we build relationships!