We are a Certified Green Shop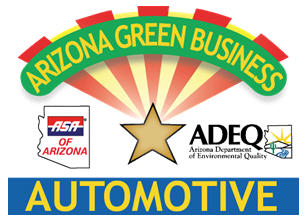 Certified as a Green Shop in 2007
HEFR was one of three shops that first participated in a pilot program, between the Arizona Department of Environmental Quality and the Automobile Service Association, for the purpose of certifying Green Shops. The program goal is to encourage and recognize businesses that put out extra effort to prevent pollution and conserve our natural resources.

All establishments must meet certain environmental standards mandated by State and Federal governments. Most reputable businesses make sure they are complying with those standards. A "Green" business, however, goes beyond those requirements and takes additional measures to protect the environment, save resources, and keep Arizona clean.

In order to become certified, auto shops must accumulate at least 300 points on a checklist, in various categories such as cleaning, degreasing, and energy conservation. The requirements, for the checklist, were created by ADEQ's Pollution Prevention Program. The program requires auto shops to use low-hazard,
low-pollution solvents or water-based cleaners; recycle waste fluids and oil; use energy-efficient lighting and air conditioning, just to name a few of the areas.

HEFR was designed to be environmentally friendly so becoming Green was an easy process. Used oils are collected to be used as fuel to heat the shop. Used anti-freeze is recycled or redistilled and turned into usable anti-freeze. Scrap metal is collected and sent to a recycler. Biodegradable soaps and cleaners are used. Parts are cleaned in a hot water "washing machine style" parts cleaner. Fluids and parts are purchased in bulk, in order to reduce waste from individual packaging. Batteries are recycled. The floors in the shop were covered with epoxy; this keeps fluids from leaching through the concrete into the ground and also reflects light up under vehicles. Lights in the shop were placed down low, beside the vehicles, so the light shines where it is needed.

At the 2007 annual ASA meeting, HEFR was recognized for being a leader among shops. We believe in leaving a cleaner world for future generations to enjoy.

ASA-Arizona Partner in Green Shop Program
The Automotive Service Association of Arizona has been approved by the Arizona Department of Environmental Quality to certify automotive repair facilities in Arizona. ASA of Arizona has undergone several training sessions in inspecting repair facilities using the Green Shop Checklist and Guidance Documents lead by the Dale Anderson, Manager of the Pollution Prevention Unit of ADEQ.
The goal of the Voluntary Arizona Green Business Program is to recognize those Arizona businesses that are going out of their way to prevent pollution and to conserve our natural resources.
The Automotive Service Association of Arizona is a not-for-profit trade association of its kind dedicated to and governed by independent automotive service and repair professionals. ASA of Arizona serves a membership base that includes groups from both the mechanical and collision repair segments of the automotive service industry. ASA of Arizona is affiliated with the National ASA based in Bedford, Texas. ASA advances professionalism and excellence in the automotive repair industry through education, representation and member services. For additional information about ASA visit www.asaaz.org.