If you need service or repair on a unique vehicle, please give us a call and tell us about it. We love a challenge!
We are a Quality Shop, Committed to Producing Quality Work
Whether you have a fleet of heavy duty trucks or a minivan, you can count on HEFR Auto and Truck Repair to properly maintain your vehicle and keep it running smoothly. We believe in making your service appointments as convenient as possible, promoting vehicle maintenance, providing quality service and parts, and keeping the cost of your vehicle care as low as possible. We are far more interested in keeping vehicles from breaking than we are in fixing broken vehicles.
We are in the Transportation Business
Although we are an auto and truck repair shop, we like to consider ourselves as being in the transportation business. Our main goal is to keep your vehicle running properly because we know that you depend on it. Whether you have a minivan or a fleet of heavy duty trucks, being without a vehicle can interrupt your schedule and cause undo stress.
We Want Your Business and are Willing to Earn It
Whether you're vehicle is in for an oil change or something more, you can count on us to do the job right the first time. We want you to fully understand what service or repairs need to be done and to feel confident that we are giving you the best service possible. We think you'll be impressed not only with our level of vehicle service, but also with our staff and facilities as well.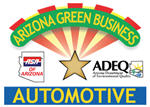 Certified as a Green Shop in 2007
HEFR was one of three shops that first participated in a pilot program, between the Arizona Department of Environmental Quality and the Automobile Service Association, for the purpose of certifying Green Shops. The program goal is to encourage and recognize businesses that put out extra effort to prevent pollution and conserve our natural resources.
Learn More


AFFILIATIONS




Sponsoring Member
International Automotive Technicians Network


Member National
Automotive Service Assoc.


Member Arizona Automotive Service Assoc.